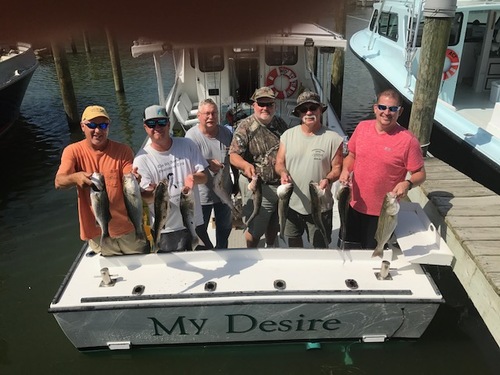 THIS SITE UPDATED March 19, 2020
Chesapeake Bay, Striped Bass & Crabbing Charters, Saint Michaels, MD
Spring Trophy Season opens May 1st, 2020
One Fish over 35" per person
Two fish per person over 18" starting May 16
Due to the Coronavirus we will not be running any spring charters in 2020.
You can now follow us on Facebook
We will be posting pictures each day as we run trips.
You can LIKE us at www.facebook.com/mydesirecharters
Call for information about booking a Striped Bass or Crabbing charter
"410-310-9659"
The Charter boat "My Desire" is a 32' solid fiberglass Manning. The boat is diesel powered with brand new electronics. The boat is USCG approved for up to 6 passangers.

"My Desire" will be available for fishing charters on the Chesapeake Bay, docked in Saint Michaels, MD for the 2020 season. Durning the summer and fall the boat will be docked at my home on the Choptank River.

Capt. Bill Kneessi welcomes the entire family on all of our Chesapeake Bay fishing & Crabbing trips. If you plan to visit Maryland's Eastern Shore, we are just a short driving distance from Easton, Tilghman Island, St. Michaels and Oxford. Join us for a fun day of Fishing or Crabbing on the Chesapeake Bay.
Owner/Operator
Captain Bill Kneessi has 40 years experience operating a charter boat on the Chesapeake Bay, Hatteras, N.C. and Ocean City, Md. I start every season with new ideas, enthusiasm, and a great attitude. It is "My Desire" to give you the most exciting day of fishing possible. I encourage angler participation and will do all that is necessary to make your experience something that you will enjoy and remember.